The Perfect Storm: Warning Signs and Challenges Ahead for Retail
Getzler Henrich & Associates Retail Practice was recently featured in articles published by Fairchild Media in Women's Wear Daily, Sourcing Journal, and Footwear News. In the article, Getzler Henrich & Associates advises on top-tier strategies to navigate uncertainty across retail markets.
"The perfect storm" idiom best describes all-too-common perspectives on the current retail market – and according to Getzler Henrich, a New York-based middle market corporate turnaround and restructuring firm, retailers have resorted to early aggressive promotional activity to overcome sales slowdown and inventory build heading into Q4 and the new year.
Michael Appel, Head of Getzler Henrich's Retail Practice, explained that current market dynamics are driven by significant cuts in consumers' discretionary spending due to the end of stimulus payments, rising concerns with global macro-economic conditions, such as inflation, rising food and fuel prices, threats of a recession and increased interest rates, while retailers are sitting with too much inventory on hand that does not align with changing trends and consumer behaviors.
---
ABOUT GETZLER HENRICH: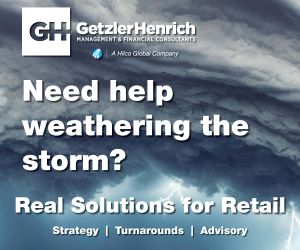 Getzler Henrich & Associates LLC is one of the nation's oldest and most respected names in middle-market corporate restructurings and operations improvement and has successfully worked with thousands of companies to achieve growth and profitability. Founded over 50 years ago, the firm still operates on the same principles of impeccable integrity, a commitment to honesty, and an overriding focus on maximizing value for our clients. Long respected for its results-oriented approach, Getzler Henrich deploys rapid, pragmatic decision making and metrics-driven implementation services for its clients. With years of experience in executive-level positions at major corporations, and a broad range of advisory expertise, Getzler Henrich professionals have consistently and successfully guided companies through crises and growth phases. Working with a wide range of companies, including publicly held firms, private corporations, and family-owned businesses, Getzler Henrich's expertise spans more than fifty industry sectors, from 'new economy' technology and service firms to 'old economy' manufacturing and distribution businesses. For more information on Getzler Henrich's expertise, visit getzlerhenrich.com.